gbCodeLib - Macros

The gbCodeLib source code editor supports recording macros (a series of keystrokes) which can then be repeated at any time using an assigned shortcut key. Up to 10 macros may be recorded. Macros are stored in the registry and may be used in any future editing session.
To initiate the recording of a macro, press Ctrl-Shft-R. This calls up a small macro window containing a single button. When the keystrokes of the macro are complete, press the button to save and record the macro.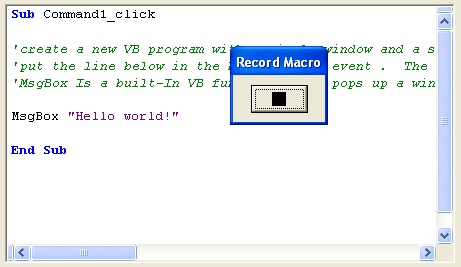 When the button is pressed, the following window appears which allows the macro to be assigned to a position (1-10) and to assign a shortcut key to the macro.
To replace a macro, simple assign a new macro to its position (1-10). The menu option Actions & Clear Macros can be used to delete all macros.
Be aware that macros may be assigned shortcut keys which match shortcuts already assigned to the gbCodeLib menu system. In such a case, both the menu and macro operations will be executed when the shortcut keys are pressed. For that reason is it best to avoid replicating menu shortcut keys.